Change for Good
Sincerely believing that the society should give a chance to children and young people with behavioural problems and help them to integrate in the society, develop socially acceptable forms of behaviour, and form and adopt a positive value system with a positive attitude towards the social environment, education and work, on 21 December 2015 six partner organizations from Bor, Belgrade and Vranje have started the project Change for Good.
The project, funded by the European Union, will last for 20 months; it will be coordinated by the Association of citizens Kokoro from Bor, and will be implemented jointly by International Aid Network (IAN) from Belgrade, Nexus from Vranje, as well as the Centres for Social Work from these three towns.
In addition to direct support provided to children and youth, the project is also focused on strengthening intersectoral cooperation and efficient use of resources in local communities with the aim to promote positive development of children and youth at risk.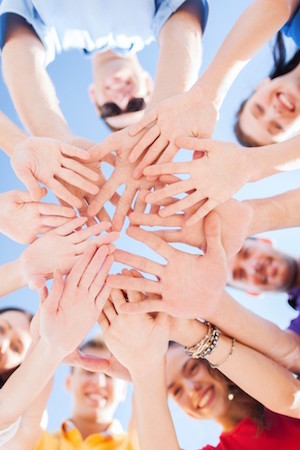 The main goal of the project is to establish Day Care Centres for children and youth with behaviour problems in Bor and Vranje, where this social care service has not been available before. Besides this,   the project will enable continuation of this service in Belgrade where IAN runs a licenced Day Care Centre children and youth with behaviour problems since 2014. IAN will transfer own model of work, experiences and successful mechanism of cooperation with the City Centre for Social Work to Kokoro and Nexus. These two organisations, with the support of local centres for social work, will establish a new social care service in their communities and licence it with the line ministry.
The municipalities of Bor and Vranje have recognised the importance and value of this project about which testifies also the fact that they granted municipal premises for establishing Day Care Centres.
Within the support program for children and youth with behaviour problems in three Day Care Centres a comprehensive set of the services will be available including social skills courses, IT training and job search courses, psychological counselling, mediation, educative and creative workshops, assistance in learning, sports and recreational activities, which all together lead towards successful resocialisation. The project foresees that around 500 children and youth including, juvenile offenders who have an alternative sanction or diversionary measure ordered by the court, will be included in the program and achieve positive behaviour changes. Also, an important component will represent work with the parents of these children aimed at enhancing their parenting skills so that they could support the changes with their children.
Prevention of asocial behaviour and bringing about positive changes among minors in conflict with the law and children with behaviour problems is a complex issue requiring joint efforts and coordination of different actors in the community. Therefore, the project will devote significant attention to developing a functional intersectoral collaboration in continuous and comprehensive support to this group of children and youth.
Through round tables, national conference, meetings, trainings and other activities, efforts will be invested in raising awareness among local and national stakeholders, including professionals from social care, juvenile justice, police, education and health institutions and non-governmental organisations in Bor and Pcinja district as well as in the City of Belgrade, on the importance of prevention and resocialisation of children and yoith with behaviour problems through community based services.
The project is funded by the European Union through the program "European support to inclusive society", and supported by the Ministry of work, employment, veteran and social affairs.
Additional information 
 Bor
Milojka Milivojević, kokorom@mts.rs,
NGO "'KOKORO", Cara Lazara 7 lamela 2, Bor, +381 30 24 96 760
Belgrade:
Ivan Stojilović, istojilovic@ian.org.rs,
IAN International Aid Network, Đure Daničića 5, Belgrade, +381 11 3229 732
Vranje:
Milena Dimitrijević Tomić,nexusvranje@gmail.com,
NGO "Nexus", Nemanjina 21, Vranje, +381 63 68 94 77
IPA CROSS BORDER COOPERATION
BULGARIA – SERBIA
RESULT ANALYSIS
PROJECT ''KNOWLEDGE WITHOUT FRONTIERS''
(''ZNANJE BEZ GRANICA'')
 
Together in the World of Diversity
On 1. May 2012.
01.05.2012-31.05.2012.
Objective:
Contributing to respecting human rights   and
intercultural connecting of different cultural communities
Specific objectives are: